Become your most vibrant, healthy self in 28 days! 
even if right now you feel like staying in bed with a block of chocolate and watching Netflix!
Get back to peak health, wellness and vibrancy in only 28 minutes a day for 28 days! 
A simple, proven online program that bridges ancient wisdom and woo woo with science and common sense. 
ONLY $97 for 28 days! 
NEXT PROGRAM KICKS OFF ON MONDAY JULY 25th! 
HAVE YOU FOUND YOURSELF ...


✔️ feeling a little uninspired about life, asking yourself "Is this all"?
✔️ having nothing to look forward to except more of the same?
✔️ stuck in a rut and unable to change - too many wines at night, poor sleep, carrying a few extra kilo's but unmotivated to do anything about it?
✔️ putting everyone else first and finding you have nothing left for yourself? 
✔️ noticing a pervading emptiness that you secretly suffer and wonder if others do too?
✔️ feeling guilty because there's actually NOTHING WRONG but you're just not excited about your life right now?


and you just want to start feeling normal again and get back to being your most vibrant self!
2020/21 threw us a GIANT curve ball and life as we knew it no longer exists. 


You know you need to lose a few kg's or improve your fitness but a restrictive diet doesn't suit your lifestyle right now and you're not into gyms
You've had a few nagging health issues that still niggle, impact your sleep and keep you feeling average & stop you from moving forward

Your mental health is MEH ... but you don't ever get around to addressing it properly
You don't know what or how to change so you just keep doing what you're doing
"If you want to change your life, you have to change what you do on the daily. 28 Lite shows you how and makes it so easy!
It's SO much more than an exercise plan with a diet attached. "
Katreena Green
Marketing Manager
28 Lite
AUD
97.00
"Simple, easy steps that make you feel so good, so fast! The introduction to energy medicine is fascinating and has changed the way I view my health and wellness""
Kathy Wong
CEO, MOELOCO
28 Lite
AUD
97.00
"I was in a bad place after leaving my job of 25 years. My stress levels were at an all time high and my anxiety was pretty bad. 28 Lite gave me the tools to reset myself and create my new, wonderful life"
Joanne Stepto
Northern Beaches, Sydney
28 Lite
AUD
97.00
"I was working long hours and had forgotten to prioritise myself. Now I start my day with a formula for wellness, that doesn't rob me of my morning, and I couldn't be happier! "
Jodi Humphreys
Research Manager, Dept. Of Health
"28 Lite has shown me the importance of filling up my own cup first! It sounds simple but requires a strategy of how to prioritise yourself, and 28Lite shows you how. My whole family now benefit from always getting the best of me. "
Sharon Chester
CEO Mum of 4 boys!
IMAGINE WAKING UP EVERY MORNING FEELING VITAL AND ENERGISED AND DEEPLY FULFILLED!
 (REGARDLESS OF YOUR CURRENT CIRCUMSTANCES)
And just imagine ...
✔️ Having a simple, daily routine that boosts your health and vitality and fills up your happiness cup but doesn't rob you of your morning 
✔️ Being finally free from the grip of anxiety without being reliant on expensive therapy, medication or self help books
✔️ No longer wondering "Is this all?" and instead seeing everyday as an opportunity to work towards your goals and create a life you love
✔️ Facing your next work or life hiccup with a sense of calm instead of your usual stress response (that you always believed was part of who you are)
✔️ Slipping into your swimmers this summer feeling and looking fit & healthy having lost a few unwanted kilo's without having paid an ongoing gym membership, dieted or deprived yourself
✔️ Having kicked the negative self talk and sabotage patterns to the kerb once and for all and thriving with a new positive go-to mindset 
✔️ Lifting the haze of brain fog so you can think clearly, have razor sharp focus and be able to perform at your edge easily every single day!
✔️ Being able to laugh again, easily and freely without forcing a smile or avoiding seeing people!  
___________________________________________________________________________

28 Lite is based on the 3 cornerstones of wellness ... 
RESET 
We introduce a nourishing, wholefood diet (not A diet!) that will reduce harmful toxins, eliminate preservatives and supercharge your body with nutrients to reset your health to optimum. 
You will begin to move your body everyday in a way that supports and strengthens you whilst not disrupting your schedule or impacting your busy lifestyle.
This is your RESET and it is a game changer!
BALANCE 
We manage the bad habits of the mind and connect with your energy body. Say goodbye to negative self talk, outdated thinking patterns and energetic blocks. 
In only 7 minutes a day, you will release what doesn't serve you and create powerful affirmations and rituals to raise your energetic vibrations and create new neural pathways for lasting change. 
This is where the magic happens and the transformation begins!
THRIVE 
The physical, mental and energetic changes work holistically to bring about whole-body and energy shifts.  Adopt the traditions of ancient cultures and attend a new moon and full moon ceremony and connect with the universal energy. 
Guided by the divine coding of numerology - all it takes is 28 mins a day for 28 days to work it's magic!
Reset your body, 
awaken your mind and ignite your spirit to become the most vibrant version of yourself and thrive in every area of your life. 
I'M READY TO THRIVE.
HALF PRICE LAUNCH SPECIAL - $97 
PROGRAM STARTS MONDAY JULY 25TH
Have you ever met a woman who walks into a room with a radiance that makes YOU feel amazing just by being in HER company? 
She is in awesome physical health, with an inner glow and wholesomeness as if it's in her DNA?
She has a striking stature and a powerful  countenance that turns heads & stops people in their tracks.
She is comfortable in her own skin & doesn't need to seek validation from anyone. 
A woman who seems completely aligned with her abundant and soulful life, and happy exactly where she is at? 
That's what it means to live lite for 28 days, in body, mind and energy! 
In a world full of anxiety and fear. Where people are under pressure and overwhelmed ... 
You need to come back to yourself to reset, balance and thrive so you can start living your BIG, BEAUTIFUL life on your terms!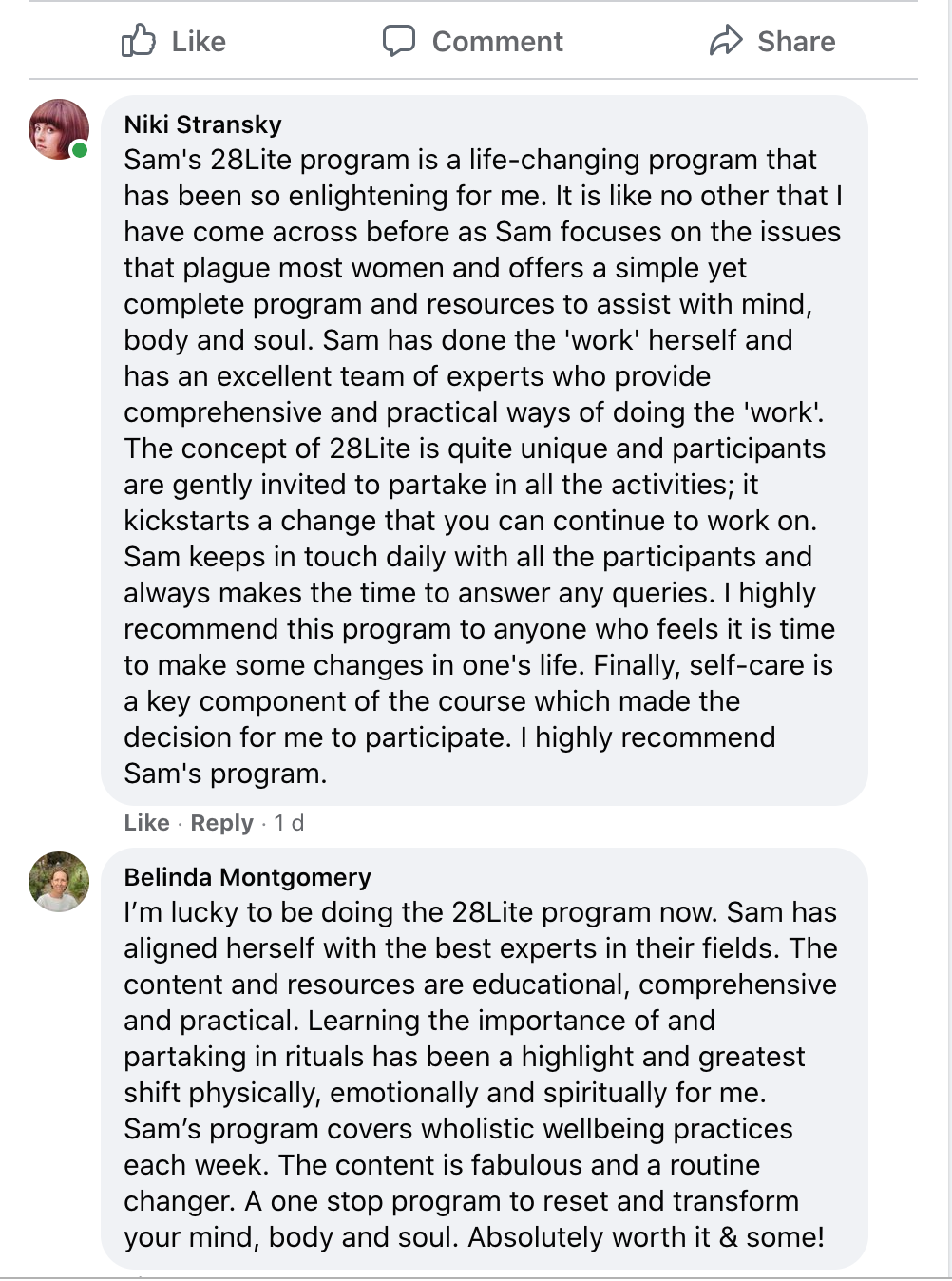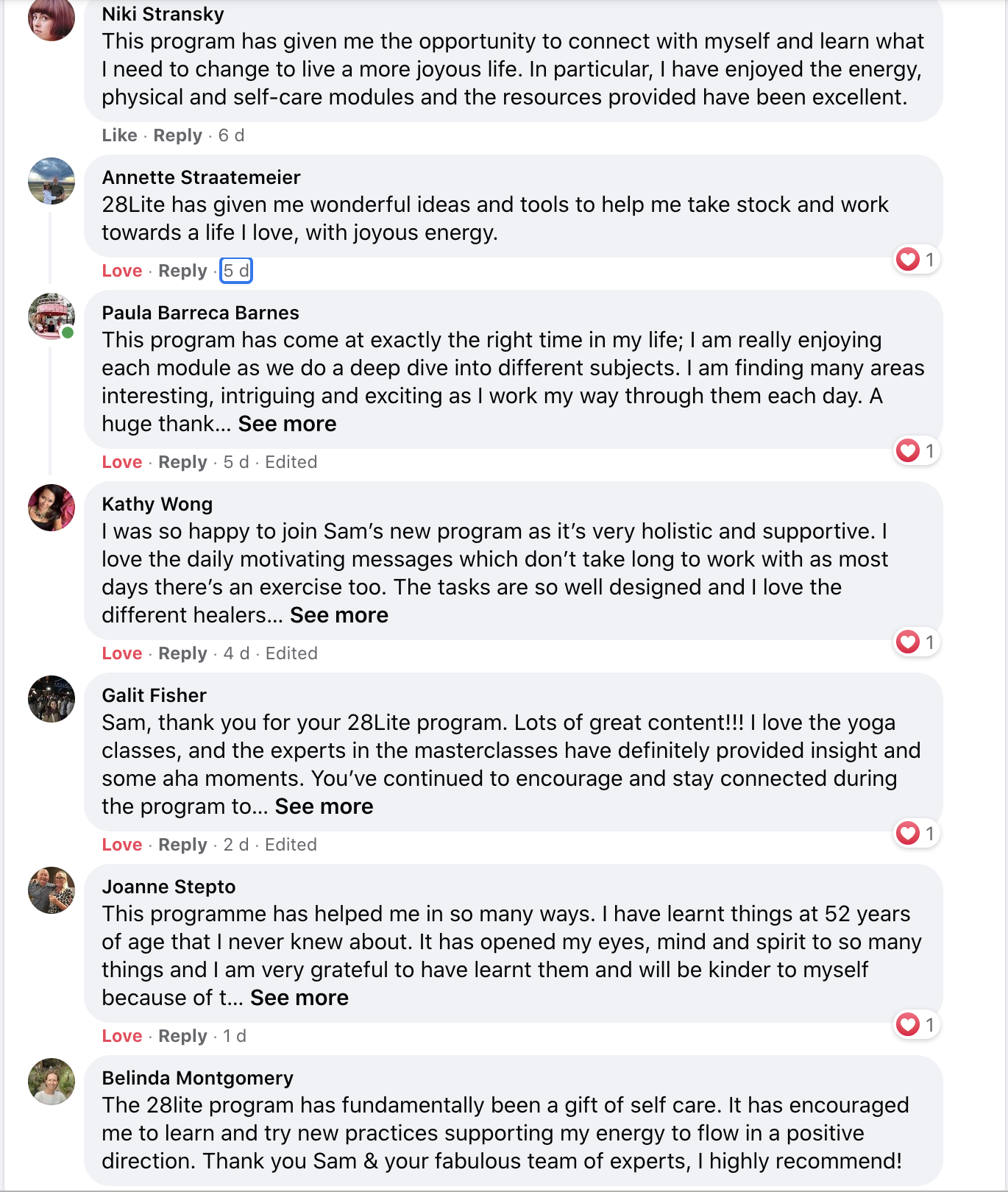 "I had lost myself when I hit retirement. I didn't have any meaning outside of my work. Thank goodness for 28 Lite. It helped me find my purpose! "
Maureen Pepperton
Retiree
Hi! I'm Sam ...
I'm a certified yoga instructor with a passion for wellness and a love of nature, a meditating mama of two gorgeous girls and the proud creator of 28Lite! 
It's lovely to meet you ❤️
Let's just say I've had my fair share of stress in my life. I went from being a fit and zen yogi to a red hot mess thanks to a hectic divorce that literally smashed me ... whilst single parenting two very young girls ... self medicating with alcohol ... sabotaging with cigarettes ... little sleep  ... you know the drill. 
Fast forward 6 years ... I gained 20 kg's, had chronic anxiety and cried into my Semillon every night. 
I hit rock bottom with a bang. I was blanketed by GRIEF, FEAR AND LOSS and could see no way out! 
THIS WAS NOT THE LIFE I EVER IMAGINED I WOULD BE LIVING! 
I intuitively knew that anti-depressants were merely a bandaid and I had to find another way. 
I visited a Spiritual Healer, Reiki Master, Clinical Hypnotherapist, Psychotherapist. I did Yoga, Access Bars, EFT and Kinesiology. 
The internal pain manifested itself as physical pain so I needed physiotherapy, acupuncture and took herbal remedies. 
S.L.O.W.L.Y. I began to heal ... from the inside out. 
Today, I am living MY BEST LIFE and am showing up as the best version of myself. 
I have found me again. But this time I am stronger, lighter, clearer, more vibrant and happier than ever before! And, I am in the drivers seat of my life, not the other way round! 
I have a simple and easy daily routine ... 
So I decided to create the 28 Lite program so other women pick themselves up from rock bottom and transform their life. 
It combines everything I've learned from my healing journey to create a powerful, transformative program for today's busy woman.
It bridges woo woo and ancient wisdom with science and common sense, to enable you to find a lighter            way of being in the world and live a vibrant, joyful and peaceful life. 
And one more thing … 
The 28 lite program isn't just reserved for only a special few …
It's actually simple to adopt to your current lifestyle (without hijacking your morning or robbing your family time)    is easy to implement at home in only 28 mins a day and you'll feel results almost immediately.  
By the end of the 28 Lite program, you'll be happy, vibrant & the best version of yourself! 
You are SO worth it!
Sam xx
HERE'S HOW IT'S DIFFERENT TO ANY OTHER PROGRAM
ENERGY
It works to the edge of energy medicine bringing a holistic approach to health and wellness that creates lasting change
EXPERTS
It is delivered by experts in their field, including nutritionists, energy practitioners, healers, yoga, and meditation teachers
EASY
It is bite-sized so you can watch videos on the go, dip in and out of it when it suits you and binge on the bits you love the most
CHECKLISTS
It gives you handy checklists so you can follow the plan and stick to your goals
EXPERIENCED
It is created by someone who has lived the experience and done the work 
TECHNIQUES
It will teach you proven techniques so you know what you are doing is founded on research and uses the most effective tools that deliver results
and i'll make it easy and fun! 
DELIVERED BY LEADING EXPERTS AND HEALTH PRACTITIONERS
Agnesa Simcic - the Whole Food Mama
Accredited Nutritionist, Yoga Teacher, Food Coach and Wholefood Mama #1!
As Mama, my family's health is my priority. As a nutritionist, your family's is too. I'm no chef. I keep it simple. I use wholefoods, mostly plant based, to keep myself and my family well. I use food and natural therapies to prevent, heal and balance health. And I can help you do the same. 
Agnesa joins the 28Lite program as the expert nutritionist and wholefood expert and provides a nutrition masterclass, a 3 day whole food meal plan with recipes, shopping lists as well as contributing to yoga classes and meditations. 
KATE CONNOLLY - Kinesiologist and Naturopath
Kate Connolly attained her Chiropractic degree at Macquarie University in Sydney in 2005.




After graduating, Kate worked in multiple practices and completed several extra courses, gaining skills in kinesiology, energy healing and completing a diploma in Naturopathy and Herbal Medicine.




Kate started her own natural health company, Natural Health Works in Manly and Terrey Hills in 2011. Kate is a Mum of 4 girls! She works with families in her clinic to manage their health, runs online Intuitive Heart Revolution meditation classes, write books, and develops online courses on intuition, spirituality and self-development.




Kate contributes to the 28Lite program by providing an introduction to energy medicine and a masterclass on how you can access your own energetic field for greater health and happiness. 
Deanne Lee Bennett - Reiki Master, Intuitive Healer/Counsellor
Reiki Master, ThetaHealing Practitioner, Holistic Counsellor, and intuitive energy healer, with a soul purpose to awaken and empower women.
Dee believes everyone holds the key to their own healing and optimum well-being. She works intuitively with Reiki, ThetaHealing, and Holistic Counselling as a means of both facilitating your healing journey and connecting you to your higher guidance. Dee's work focuses on core belief work, inner child healing, shadow integration, boundaries practice, conscious communication, self-compassion, understanding and expressing feelings, unhealthy and dysfunctional patterns, and ailments and disease, to help you heal and align with your most authentic self.
 Dee offers an energy masterclass with crystal healing and a meditation session within the 28Lite program. 
Kirsten Horner - Advanced Hypnotherapist & Results Coach
Kirsten has been helping people resolve physical and emotional pain the last 8 years, bringing her clients consistent breakthroughs and life changing results, even after they've tried 'everything'. 
She combines innovations in advanced hypnotherapy, mind mastery tools and high performance coaching to give her clients the shift they need to connect with their inner energy and inspiration. 
FOOD FREEDOM MASTERCLASS
Kirsten adds her 'Food Freedom Masterclass' to the 28Lite program with the 4 Reset Steps that can break the emotional eating cycle and the habits that weigh you down mentally and emotionally. 
Activating your moment to moment awareness and your subconscious power to shift the patterns behind our habits are the key to tangible change that leaves you lighter and happier. 
Eliza Easterman - Energy and Transformational Coach
Eliza initiates powerful growth and change for women ready to create a life they love. She believes humans are powerful beyond measure and loves to work with women to guide them to connect with their inner power and wisdom.
Eliza knows that the key to lasting change is an 'inside job'. And her role is to help you develop a deep connection to Self.
She works with a number of different modalities including NLP, Time Line Therapy, Hypnosis, Superconscious Recoding and bio-resonance scanning to meet each individual client where they are at; so that they feel supported as they create lasting change in their life.
SUPER CONSCIOUS RECODE
Eliza offers  an Energy and Mindset Masterclass in the 28Lite program introducing you to the world of the super conscious. Eliza will conduct a Super Conscious Recode (SCR) session for the group container using a specific bio-resonance device. 
Ellie Welsman - Fitness Coach and owner of Tone Athletica
Ellie is a high performance strength coach and athlete. She has a women only gym in Brookvale on the Northern Beaches where she empowers women to be their best. 
Ellie provides an introduction to Functional Fitness video and her signature 6 Smart Workouts for Female Fitness Fanatics inside the 28Lite program. From 6 minutes to 20 minutes, each workout focuses on building strength and stamina. 
Dr Nick Krasner - Medical Doctor and Integrative Holistic Practitioner, Author
Dr Nick Krasner graduated as a medical Doctor from Liverpool University, London. He has a Masters in Sports Medicine from the University of London and is a former lecturer in Sports Medicine. He has created Psychological Surgery where he produces mind programs for elite athletes. 
A former expert for BBC World News in Sports Medicine. Dr Krasner is a member of ACNEM - Australasian College of Nutritional and Environmental Medicine. He has authored numerous books including The Depression Doctor - 10 Simple Paths to Happiness. 
Dr Krasner contributes to the 28Lite Program with an interview discussing the gut-brain connection, treating anxiety and various causes of depression. 
---
HERE'S WHAT WE'LL COVER IN THE PROGRAM 
MAX OUT YOUR MINDFULLNESS
Moments of stillness and quiet contemplation allow you to release and restore. From acts of kindness to journaling, affirmations to rituals. Begin your journey within for greater peace, calm and serenity.
ACTIVATE YOUR ENEGY FIELD
Discover your existence is more than your physical and mental body. Tap into your amazing energy field, move blocks, release trapped emotions and fire up your positivity.
FIRE UP YOUR FITNESS
Daily whole body movement that builds strength and suppleness in equal measure - only 21 minutes a day.
RE-ENERGISE WITH WHOLEFOODS
Nourish and cleanse through embracing a whole food diet, that's not only tasty but satisfying and detoxifying. Shopping lists, meal plans and recipes included!
SCHEDULE YOUR SELF CARE
To fill up your cup and empty your stress. A plan backed by intentional action brings results.
A RAPID MINDSET SHIFT
Break through subconscious barriers. Learn kick ass mind mastery techniques to overcome limitations and get your power back!
SUPERCHARGE YOUR RESULTS
Awaken to a what's possible through the lens of numerology. Allow mystical coding to help chart your new course to being the best version of yourself.
POWER UP YOUR POSITIVITY QUOTIENT
Proven practices to kick negativity to the kerb and cultivate more positivity, through affirmations, journaling, and ritual.
HERE'S WHAT YOU'LL GET WHEN YOU SIGN UP TO START ON JULY 25TH 
✅ Access to an online portal containing the comprehensive 28 Lite material and formula, divided into Weeks 1 - 4 as you progress. 
✅ Weekly video's, audio's and PDF's guiding you through the program
✅ Membership to a private Facebook group where LIVE masterclasses and group healings will be conducted, along with group support and Q&A with experts
✅ Motivational emails each day, Monday to Friday
✅ A live online New Moon Intention Setting Ceremony (Thursday July 28, 7pm)
✅ A live online Sacred Cacao Closing Ceremony (Sunday 21 August)
WHAT'S INSIDE THE 28 LITE PROGRAM
✅ An introduction to wholefood nutrition masterclass, complete with shopping list, meal plan and recipes 🔥🔥 (Value $180)
✅ 6 Super "do-at-home" workouts for female fitness fanatics 🔥🔥 (Value $90)
✅ 5 do at home yoga videos to guide you through your daily movement - 🔥🔥 (Value $90) 
✅ Daily prompts and checklists and affirmation starters 🔥🔥 (Value $30) 
✅ 6 x audio recordings - 2 breathing exercises, 4 guided meditations for your daily dose of chill 🔥🔥 (Value $80)
✅ 4 ancient self care rituals IN AUDIO MP3 and PDF download
🔥🔥 (Value $65)
✅ Masterclasses on how to connect to your energy field, chakra's, emotional eating, mindset, flower essences, skin care rituals and more 🔥🔥 PRICELESS
--------
🔥 BONUS: LIVE (online) New Moon Intention Setting Ceremony (Value $150)
🔥 Daily motivations and progress diary checklist (Value $49)
🔥 BONUS: LIVE (online) Closing Sacred Cacao Ceremony ($150) 
🔥 Daily Facebook Group Support (Priceless!)
 
🔥 TOTAL VALUE $1396.00 🔥
Hiring a personal trainer $70+ per hour, a psychologist $240 per hour, kinesiologist $170 per half hour, Reiki Healing session $120+ per hour
Hiring me as your personal coach for a month = $3000+
YOUR INVESTMENT FOR A TOTAL TRANSFORMATION IN 28 DAYS?
$97
28 LITE IS PERFECT FOR YOU IF ... 
✅ Life's giant curveball has hit you and you are wondering how to pick yourself up! 
✅ You've let yourself go and lack the motivation to do anything about it, instead think that slipping into a Moo Moo and pouring a 2nd glass of vino is the easier option
✅ You want to get on top of your mental health and haven't yet found the thing that works for you 
✅ You are just doing life instead of really living life
✅
You're after a quick win, that doesn't impact your lifestyle or impose on your time too much
✅ You have been struggling with your health/relationships/work or are just STRESSED OUT and know something needs to shift
✅ You have wanted to try something alternate (or even a bit woo woo) but not sure what or even if you should! 
✅ You've put yourself last for too long and need a gentle hand of encouragement to prioritise YOU
✅You are done with grinding your gears and not going anywhere and want to create an amazing life! 
28 Lite

AUD

97.00

"28 Lite is a game changer! You owe it to yourself to make the transformation"

"Energy work has been the missing piece of the puzzle for me! 28 Lite is a complete program that works. "

28 Lite

AUD

97.00

"This is a fantastic program that works!"
JOIN TODAY TO START ON MONDAY JULY 25TH 2022